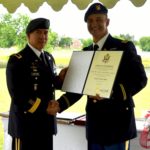 Chris Schmitt – A Rucksack of Best Practices to Build Trust For Any Team
Co-hosts Jan Rutherford and Jim Vaselopulos interview Lieutenant Colonel Christopher Schmitt, as he transitions from special operations leadership to corporate advisor after 30 years of military service. Starting his career as an enlisted soldier at the age of 17, he understands the requirement to recruit great people while investing in their development and taking the time to explain the organization's why. He is excited about the future and the goodness he expects to bring to others in the corporate sector. On this episode, Chris discusses principles of military leadership, his participation in the upcoming Patagonia Crucible, and his plans moving forward to support corporate leaders to build high performing teams. Chris wants this next chapter of his life to be about increasing the capacity of purposeful teams, developing positive leadership and mentoring winners!
Listen in to learn the value of trust in enabling your team members' individual growth and joint success.
Key Takeaways
[3:32] Perseverance and persistence are important virtues to pack in your ruck.
[4:12] The experience of starting as an army private gives great perspective as an officer.
[8:56] Adaptability and moving forward will not happen without trust.
[9:10] Why is trust harder to develop in business than in the military – or is it?
[10:32] To be a rockstar organizational leader you have to take a chance and give some of that trust to the people in your organization.
[14:20] Provide a vision, and then allow people to just go and do it.
[17:38] Always try to do what you can do well, and leverage your core competencies.
[19:38] In order to excel in a new field, start by listening so that you can learn and understand the nuances in culture and language within that field.
[26:23] From Simon Sinek on leadership: Start with the Why. Being kind is important. Allow people to adapt and change.
Connect with Chris here:
Quotable Quotes
"My purpose is to facilitate others' success, and to work toward continuing to help high performing teams succeed."
"No matter how high you are up the chain…there's not a little magic box that gives you all the answers."
"Not taking time to sit back and reflect — that's when you make small mistakes and difficulties."
"Having genuine concern for people, pushing your purpose and sharing hardship are the things we need to continue to prepare our leaders for."
"Being in charge is hard work."
Bio
Christopher Schmitt has developed as a strong leader, coach and mentor over the past 30 years of military service. Starting his career as an enlisted soldier at the age of 17, he then applied to West Point U.S. Military Academy. Working his way up through the ranks after graduation from West Point, he learned the importance to build a core team around the organization's values and purpose. Over the past 18 years as an international project officer and change agent as a deployed Special Forces field grade officer, Chris experienced how to motivate high performing teams to accomplish national strategic agendas.
With 14 years of service outside of the United States, from the destroyed Olympic City of Sarajevo to the dusty outposts of Timbuktu with trips to Afghanistan, as a Paratrooper, Ranger, and Green Beret, Chris has a rich appreciation for good leadership. He has a passion for interacting with leaders and helping them excel. He has a skill for building teams, mentoring their development and coaching them toward success. Chris has stuffed his rucksack with best practices necessary to motivate gifted individuals to perform as high-functioning organizations. Chris plans to transition his passion for building partner nation special operations teams to mentoring development of Corporate Leaders and their organizations. He can't wait to get started and begin making an impact.
Chris Schmitt
These are the books mentioned in Chris' podcast.