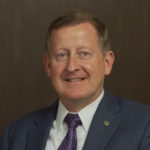 Major Larry Moores, Retired Army Ranger recently inducted into the Ranger Hall of Fame, and now Executive Director of the Three Rangers Foundation, talks with Jim and Jan about leadership in adverse environments, shared accountability and camaraderie within a unit. Larry talks about how an understanding of fundamentals can help teams succeed in the most difficult environments.
Larry shares his story to inspire and motivate, but also to help people understand the journey to success is not always an upwards climb or the smoothest road.
Key Takeaways
[3:46] Larry's upbringing strongly influenced and shaped his vision and values as a leader. He and his and his brother were encouraged to do the right thing, even when no one was watching.
[4:02] Larry was recently inducted into the Ranger Hall of Fame, and credits much of the honor and success to the team around him.
[6:02] Strong leadership development, and training in difficult and diverse environments help to support a team's commitment to their mission.
[10:47] Trust and faith in your teammates ability is of the utmost importance.
[11:22] Two commitments in the Ranger Creed that stand out to Larry as tenants of leadership are "never leave a fellow comrade" and "I will train to be the best at what I do, and give it 110%."
[13:37] Larry seeks teammates and trainees that will stay open and curious for more knowledge along the way of mission accomplishment.
[15:12] It is critical to have post action reviews as a team to study what went wrong, what went right, and what could be better for the next mission.
[17:50] Good leaders should maintain a balance of sharing information with their team, and providing a buffer between that which will overwhelm and detract focus from the objective.
[23:29] Whether it's a military or business unit, it's important for every member of the team to have a deep understanding of the fundamentals of the mission, and then drill it into action through repetition and focus.
[25:56] Incorporating the whole team into training keeps the environment fresh and helps to combat against stagnancy.
[27:58] Leaders must teach foundational and fundamental expectations of the particular levels of each specific unit, and possibly the organization as a whole.
[31:52] As Executive Direction of the The Three Rangers Foundation, Larry dedicates his time and energy into supporting Veterans find senior leadership mentors to help transition them into the business world.
[37:44] As we grow and develop through our lives, there's different obstacles along the way. Our ability to have a fundamental platform allows us to be successful during times of adversity.
How to contact Larry:
Instagram: @ldmoores
Facebook: @Larry Moores
www.threerangersfoundation.org
Quotable Quotes
"We are mission focused."
"Commitment to the creed and to the brothers on your right and left really carries a lot of weight."
"Successful people don't get there alone."
"Give people the right training and vision, then allow them to go out there and make a mistake but not be punished too much."
"From a working level to a strategic C level, there are wins and losses based on different engagement from each perspective."
"Leaders must give their team the information they need to be successful in their tactical approach, but not too much to overwhelm them with information."
"If you are getting too comfortable at what you're doing, it's time to take a step back and really look at what you're doing."
"It's about taking the right steps when no one's watching."
"Sometimes, we must step back and look at the fundamentals rather than reaching for the next piece."