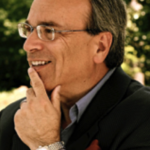 Tom is one of the world's top public philosophers and pioneering business thinkers. He's the author of 20 groundbreaking books and is a legendary speaker whose electrifying talks reengage people around their deepest values and reignite their passion for work and life.
A native of Durham, North Carolina and a Distinguished Alumnus of Durham Academy, Tom was a Morehead Scholar at the University of North Carolina – Chapel Hill, which has honored him, along with Michael Jordan, as a recipient of their "Distinguished Young Alumnus Award." He holds two masters degrees as well as a joint Ph.D. in both Philosophy and Religious Studies from Yale University, as well as other, honorary doctorates in recognition of his public work of bringing practical philosophy back into the cultural mix. Tom served for fifteen years as a Professor of Philosophy at the University of Notre Dame, where he quickly became a campus legend, in many years having an eighth of the entire student body in his classes. He is now Chairman of the Morris Institute for Human Values in Wilmington, NC.
Tom asks us to take a break and think – and know yourself. He views philosophy as a mirror to understand one's true values and beliefs. Being self-reflective is not to slow you down, but make you better. He also said that sometimes, "Talking is a form of thinking – not just communicating." Great people and great leaders create great relationships, and these same people know that you have to grow people to have great results. He went on to say the most common mistake is "assumptions," and thinking that everyone is clear on their goals. He talked about the need to balance Nobility and Humility and that you must allow yourself to be vulnerable. As with our other guests, Tom stressed that Leaders are Readers! Lastly, he believes the centerpiece of culture in an effective organization is where leaders develop people in every aspect of their lives.
Contact Tom here:
Tom Morris
These are books that Tom mentioned in his podcast