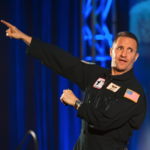 Decorated fighter pilot and business coach Lt. Col. Rob "Waldo" Waldman discusses building trusting, mutually beneficial relationships in business.
Summary & Ideas for Action
Co-hosts Jan Rutherford and Jim Vaselopulos interview Rob "Waldo" Waldman, professional wingman and leadership expert. Waldo is his call sign from his days as a fighter pilot. The Wingman, as Waldo is known, is a professional leadership speaker, and author of the New York Times and Wall Street Journal best-seller, Never Fly Solo. He teaches organizations how to build trusting, revenue-producing relationships with their employees, partners, and customers, while sharing his experiences as a combat-decorated F-16 fighter pilot and successful businessman. Jan and Jim talk with Waldo about what it means to have a wingman, to be a wingman, to build the trusting, mutually beneficial relationships wingmen share, and what role a wingman plays in the business world.
Listen in to learn how to nurture trust in your organization, and how your core values are central to that trust.
Key Takeaways
[3:25] The term wingman came from the person at the pilot's 9 (or 3) o'clock position, who could see the pilot's 6 o'clock, and keep them from being shot down. It's about mutual support, calling out the threat, and having the trust necessary to take action.
[6:04] From a networking perspective, we're seeing a lot of that 'pay it forward,' honorable behavior, as networking becomes more mainstream.
[6:36] Part of the Code of Honor at the Air Force Academy is, "We will not lie, steal, or cheat, nor tolerate among us anyone who does."
[7:31] 'Wingwork' is thinking about who you're going to help; about what questions to ask to help this person who may be struggling; and about who you know, who could also help.
[8:00] Being a wingman takes time and effort. We've got to build a relationship, and establish trust, by honoring the relationship with mutual support, by nurturing and appreciating — not just picking each other's brains to extract value from them.
[13:27] Sometimes it's important to manufacture pressure in business — business may not seem like a life-or-death situation, but it is the life or death of a sale, a quota, a company, your family's support, and your dream.
[19:57] When you're truly afraid of death or loss, that brings out doubt, which destroys a warrior spirit. Turn that doubt into confidence and courage. That's what peak performers do. On the opposite side of fear is growth.
[24:44] When you focus on serving someone, and being present for them, you leap past your fear into productive action.
[28:28] It all begins with you as a leader. Look at yourself in the mirror and consider your goals and core values. Tap into your core, and hire for it. Create an environment where it's safe to tactfully call out problems.
[34:21] The biggest challenge in business today is people are afraid to go to each other for help. They're afraid to show vulnerability — a lot of times, because their leaders are demanding instead of commanding.
How to contact Rob "Waldo" Waldman:
Quotable Quotes
"You can't see your most vulnerable position in combat, which is behind you."
"Trust takes time. It starts with core values, mutual respect, integrity — and it takes effort. "
"You need to be experiencing it under the gun — that's where the learning happens."
"Passion trumps fear. Your passion's got to be greater than the fear."
'There's no greater impact that you can have on folks who are needing you, than your time."
Bio
Waldo is a graduate of the U.S. Air Force Academy, and holds an MBA with a focus on organizational behavior. He is an inductee into the Professional Speaker Hall of Fame, and has many more credentials. He founded The Wingman Foundation to build funds and awareness for soldiers, veterans, airmen and their families.
Waldo believes that the key to building a culture of trust lies with your wingmen — the men and women in your life who help you overcome obstacles, adapt to change, and achieve success. In your business and life, you should never fly solo.
Waldo Waldman
These are the books mentioned on Waldo'd podcast