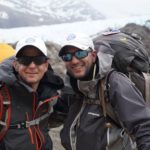 Why teamwork accelerates when failure is not an option
Summary & Ideas for Action
On this Mastermind episode, co-hosts Jim Vaselopulos and Jan Rutherford talk about their Crucible expedition in Patagonia. Self-Reliant Leadership has been running Crucible expeditions for a few years now with the primary goal of assisting Special Operations veterans with their transition to the business world. With a recent international expedition, Jim & Jan expanded their goal to include figuring out the recipe for accelerating team development. Based on their work, they know most teams struggle with some degree of dysfunction, and their aim was to prove the hypothesis that a team can gel extremely quickly if the right "recipe" is applied.
So what do you get when you mix Special Operations veterans and executives in Patagonia? Listen in to get the back story, and discover the recipe for accelerating team development!
Key Takeaways
[2:12] Jan gives a quick overview on their most recent Self-reliant Crucible — a venture to digitally detox executives and help Special Operations veterans transition to the business world.
[4:25] Jim talks about the first meeting dinner. People are people, In a few hours they were building camaraderie, and the fun started.
[5:37] Humor is a way to test boundaries. It has limits, and people are always probing them. It lowers barriers and brings in commonality. We share the same sense of humor.
[8:52] You've got to be very careful about the use of humor in the workplace, and you've got to be honorable. But if you never cut loose, there's a level of trust you never reach.
[9:30] Curiosity manifest is an important trait on the trek.
[12:54] Team consensus through bad weather and physical distress. Individual self-reliance supporting the team effort.
[18:28] Jan was struck by the 100% commitment to each other and to what they needed to accomplish. He realized that business teams often settle on goals that are not big enough, and they never get to that degree of commitment.
[20:30] The application in business is not just the size of the goal, but how well people understand the commitment of any goal.
[23:58] On the second day, as Jim was leading, someone asked if they should take some of the load out of Jim's pack, and someone answered, no, let him do this — he's got to do it on his own.
[31:20] How the military and business leadership skills worked together.
[36:00] Jim shares a favorite experience. On the day he was in charge, climbing with crampons, Jim was slowing down. One of the guys, Clay, stood with him and recited the Ranger Creed. That poured so much energy into him — just what he needed to hear at that exact moment.
[39:59] Your comfort zone is comfortable, but nothing magic happens there. As Bill George said, "The thing that defines leaders, is that they're constantly testing themselves and reframing their life story."
How to Interact with Jim & Jan:
If you would like to see more pictures – check out our Facebook site!

Follow us

on Twitter:

@WeStudyLeaders

Like us on Facebook

,

Twitter

,

Stitcher

,

SoundCloud

, and

iTunes

!
Quotable Quotes
"Not only are [Special Operations veterans] great warriors, but they're also great diplomats, and they have all the skills necessary from a business acumen perspective."
"We might be able to figure out the recipe … Can we simplify ways that leaders can be more effective; teams can come together more rapidly? And I actually think we figured that out."
"Humor … brings in commonality. Someone's going to laugh about the same Will Ferrell quote that I laugh about."
"Mentally, I'm 'Green.' Mentally, whatever is hurting, I'm going to suck it up and get through it, because the team's depending on it."
'"Everyone knew the playbook, so they could play any position."
Bios
Jan Rutherford brings his training as a former U.S. Army Special Forces soldier with over 25 years of business experience. His purpose is developing self-reliant leaders and teams. He is founder of Self-Reliant Leadership, LLC, as well as speaker, author, coach, workshop facilitator, and strategist. Jan teaches organizations to grow through the development of their people.
Jim Vaselopulos brings his years of C-level executive experience as a rainmaker, entrepreneur, new business development expert, and board member. He has turned around underperforming organizations and has been a consultant to various organizations. Jim has an Engineering degree from the University of Illinois and an MBA from Marquette University.
Jim & Jan
These are the books mentioned in Jim and Jan's podcasts.