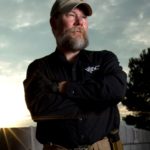 Summary & Ideas for Action
Kyle Lamb, President of Viking Tactics, talks about military and business leadership behaviors — what works and what doesn't — with entertaining stories along the way. His authentic conversation reflects lessons learned that he energetically shares with others. He tells how his entrepreneurial journey started on the family farm, continued through the military, and takes full form in his company, and in writing his books. His main focus is unflinching honesty when appraising team member and mission performance. He talks about his team-building training exercises, and how they are not for feeling good, but for learning to execute the mission with excellence. He uses humor, but keeps the serious moments completely serious. He stresses the importance of the debrief. He tells how his wife debriefed him after reading the final draft of his book, and made him improve it. Listen in to learn how mission skills apply to every endeavor, and in your organization.
Key Takeaways
[5:15] First, know your mission. In business, some people do not understand what the mission is. Teamwork starts with the mission.
[16:05] Kyle talks about dads, needing to be there for their kids, and making sure they perform. Dads should have their children play in very competitive sports. People need to put forth 110%, and win. If you lose after your best effort, it is better than getting a participation trophy for little effort.
[20:41] Kyle has always kept his sense of humor. He disrupted school with pranks. Kyle sees humor as a part of quick thinking. He points out sports heroes who have a great sense of humor.
[28:24] Kyle explains that his team-building seminars teach you how to do your job. He uses the basics of gear, respecting the team, planning, execution, "hotwashing" (debriefing), and repeating with a different leader. Team-building helps weaker leaders grow stronger. Kyle recalls an interaction with a troop commander who needed to learn the value of the skills of his team.
[33:18] Kyle is very serious during the hotwash. He asks, "Do you understand where I'm coming from with this shortcoming that you have?" If they say no, Kyle continues to explain it until they do. Be honest with people. If they bail, that is better then continuing with incompetence. Don't be mean, but honest.
[37:07] Kyle puts mission over money. VTAC builds the best products for their customers. If you're about the mission, you're ultimately going to be successful. Kyle reminds his military friends that when they're out of the Army, they're no longer commandos, and no one cares what they did as commandos. They have the skillsets to be successful as civilian entrepreneurs, if they apply them to their new mission.
[44:00] Kyle's his first two books trained him for writing his third book, Leadership in the Shadows: Special Operations Soldier. He was unimpressed with leadership books about clawing to the top. A friend offered to help him write a leadership book in return for three V-back T-shirts. So he did. Then his wife read it, and told him to re-write five chapters, this time with a positive attitude.
[48:17] Kyle wanted a book to read in five-minute windows. It is a book for busy people. He was inspired by The Warrior Ethos, by Steven Pressfield, that can be read in bits. Kyle includes a hotwash at the end of chapters.
How to contact/follow Kyle & Viking Tactics:
Quotable Quotes
"I guess I was an entrepreneur my entire life. As a kid, I got paid for shooting gophers, 'cause gophers were tearing up our fields."
"Every Special Operations guy is kind of an entrepreneur. You're asked to do things with nothing, and you have to go out and make it happen."
"Companies that are really successful — they absolutely understand what their mission is."
"I have a slide when I do leadership seminar, and it says, Merit and Productivity vs. Status and Entitlement."
"Look around. If you have people that are performing, being productive, don't you want more people like that?"
"You're in this for business. You're here to produce. We've gotta keep producing."
"I think having humor is a good thing. A lot of guys take themselves way, way, way too serious."
"[In our team-building seminars] we are not there to make you feel good."
"If you want to become a millionaire, don't listen to anything I say, because it's not about the money, it's about the mission."
"I wanted a book that was made for a guy like me. I have the attention span of a squirrel."
"The only way to see the future is to turn your back on the past."
"The people that are bringing it hard, and that are going to be honest with each other … The little safe spacers [in business], watch out, because we are going to crush you like a ripe August tomato!"
Bio
Sergeant Major (retired) Kyle Lamb spent over 21 years in the United States Army, with over 15 of that in 1st SFOD-D Delta Force. Born and raised in Willow Lake, South Dakota, Lamb joined the Army in 1986. He has participated in many conflicts — Desert Storm, Bosnia, Iraq — as well as in the battle made famous by the movie Black Hawk Down in Mogadishu, Somalia. SGM Lamb has received numerous valorous awards and decorations. SGM Lamb is the Founder and President of Viking Tactics, a tactical training and tactical gear business. SGM Lamb also appears on the Outdoor Channel TV Show, Viking Chronicles, which highlights Tactical shooting, adventure, and extreme hunting. Lamb is also the author of several books to include a carbine instructional book, Green Eyes and Black Rifles, a pistol book, Stay in the Fight!!, and his latest book, Leadership in the Shadows, which highlights his time in the military, as well as numerous events from the Law Enforcement world.
Kyle Lamb
These are the books mentioned in Kyle's podcast.