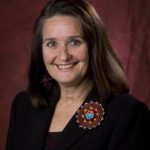 Dede Devine, Native American Connections President and CEO, talks with Jim and Jan about her organization's mission as a sustainable resource for recovery, housing, employment, wellness, and traditional healing for the Native American people of Phoenix.

Key Takeaways
[1:52] Dede outlines the mission of Native American Connections (NAC) as a grass-roots-style nonprofit, serving Native American individuals in the Phoenix Arizona area move toward health and wellness.
[3:04] The 180 employees of NAC are engaged and committed because of the difference NAC makes in people's lives. It's life-changing and life-saving. Dede has seen many changes in processes over 40 years, while the mission remains the same.
[5:19] In the 1970s, Native American people came to Phoenix from the reservation areas looking for work. Nonprofits, such as NAC, formed to serve them. NAC was founded to help them with addiction issues, housing, and jobs, and to encourage wellness in a healthy Native community.
[14:33] Dede is most proud of the unchanging mission of NAC over the years. NAC provides recovery services in a safe living environment, connecting people to jobs, and creating a healthy community. She is really proud that they didn't have mission creep, chase grants, or do marketing. NAC is promoted through their work. To have a sustainable service organization you need a sustainable business model.
[18:48] Dede and the NAC campaigned for, organized, and developed the Phoenix Indian School Visitor Center commemorating the Federal Indian boarding school that operated in Phoenix from 1891 to 1990. The school played a major role in the tribes of the Southwest. Now its story is preserved.
[25:26] Native American tribes are sovereign nations. Tribal leaders have authority and responsibility for their nations equivalent to that of the U.S. President for America. Tribal leaders focus on economic development in the context of the needs of the whole community. Dede and NAC look at the whole person's needs and the whole community's needs — how the history and culture impact the individual.
[30:57] There are over 540 Federally-recognized tribes. They each have their own culture, language, and resources. They share a connection to the land and a commitment to their homeland. They are grounded by their community, even as they move around the U.S.
[34:08] We're all in relationship with each other. We have interconnectedness. People step up and lead at different times. Think of it as a circle. In the community, you give when you're healthy and when you're in need, others give to you. When you're connected, it's not about ego, or who's in charge. There is an integrity that you will help, reach out, and step up in the community. It's reciprocity.
How to contact Dede:
Quotable Quotes
"It's life-changing. It's life-saving.
The mission is the same — the way we care about people."
"We recognize [in] people — regardless of their past — what their future potential is."
"I was highly influenced by those healers, early on."
"There were several of those healers that took life very simply. They were committed to the environment … to people's human spirit."
"To really have a sustainable service organization you have to have a really sustainable business model."
Decisions need to be made in view of their effect on the next seven generations.
"[In the Native American communities] 'enough' is about when everybody is interconnected and everybody is taken care of."
"I give when I'm healthy, and when I'm in need, other people give to me."
Bio
Diana "Dede" Yazzie Devine, Native American Connections President/CEO has been working with Native American urban and tribal entities since 1972 and has been the CEO of Native American Connections (NAC) since 1979. NAC is a 501 (c) 3 Native American operated nonprofit corporation that provides comprehensive behavioral health services that integrate Native cultural and traditional healing practices, affordable housing, and community-based economic development opportunities. NAC serves all populations with a targeted mission to serve Native Americans living both in the Phoenix urban area and from tribal communities. NAC has developed, owns and operates over 700 units of affordable housing for working families and permanent supportive housing for homeless individuals.
Ms. Devine has an MBA from Arizona State University and holds International and State licenses in substance abuse counseling. In addition, she dedicates her time to local, state and national boards/committees. Ms. Devine's leadership and dedication have been recognized within the community. She has received numerous awards including; Valley Leadership's Woman of the Year; Organization for Nonprofit Executives Director of the Year; YWCA's Business Leader Award; Centennial Legacy Project – Arizona's 48 Most Intriguing Women; Phoenix Business Journal's 25 Most Admired CEOs; Phoenix Community Alliance Center City Starr Award; Arizona Interfaith Movement Golden Rule Award.
Dede Devine
These are the books referenced in Dede's podcast.