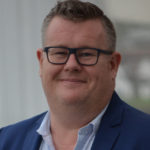 Martin O'Neill, is the Senior Executive for Engine Technology at GE Transportation. Martin joins Jim and Jan in a discussion about innovation and leadership, and how they're connected and intertwined.
Listen in to learn more about how Martin balances the divergence of structure and organization with experimentation and expansion.
Key Takeaways
[6:12] When you are working with large scale industrial product development, there is typically a type of mindset that has been around for years that has little to do with leadership. Martin and his team have shifted to different practices to pursue an innovation agenda.
[13:56] Martin manages the collaboration of others all around the globe. He overcomes challenges of different time zones and work times by clearly laying out what is expected and when for every member. Structure is also very important, and they have operating reviews on a strict and consistent schedule. He spends time up front explaining clearly what is expected.
[20:56] Not only is Martin dealing with the different cultures due to geographic span, but the culture within the engineers is something he makes sure is structured and organized.
[28:36] Martin really drives home the point of self informing and continuous learning to the new engineers.
[32:52] Martin is not afraid to celebrate the failures of projects they need to kill and views it as a learning lesson and way to veer off stagnation.
[35:53] The rally call should always be on customer outcome, customer value and business value proposition.
[36:24] Engineers used to be much more autonomous, but now there is a shift away from traditional thinking and a move towards horizontal work and collaboration.
How to contact Martin:
Quotable Quotes
"You have to be bold."
"A little bit of personality goes a long way."
"Allow people some self governance and a way to correct themself."
Correct Thyself
"Kill the stuff that isn't so important."
"You have duty as a leader to fish out what's really not adding value and put it down publicly, humanely and move on."
"True innovations come from when you start to work horizontally."
Bio
Martin O'Neill has worked in transportation, aviation, marine propulsion and energy segments for over 20 years; most recently with General Electric. Martin has worked in transportation, aviation, marine propulsion and energy segments for over 20 years; most recently with General Electric. Trained originally as an aeronautical engineer & program manager in the UK, he has worked in global product and technology leadership roles with nuclear, gas turbines, diesel engines & controls systems. In his current role as Senior Executive – Engine Technology at GE Transportation he leads a team of product managers, engineers & technologists to develop & sustain diesel engine platforms in rail & marine markets.
Martin enjoys working with creative people to bring solutions to customers through applied technology & business operations – increasingly through the marriage of digital, data, software & engineering methods. He values cultural & thought diversity together with engaging debate, has been resident in Chicago since 2013 with his wife and two children, and is keen to engage with the Chicago business & scientific community.