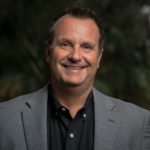 Lieutenant Colonel Scott Mann, a retired Green Beret, is an expert trust builder and master storyteller. He Joins Jim and Jan to discuss his work helping transition military veterans to civilian life, and the importance of supporting their personal story. Scott gives us a sneak peek into his new play that premiers on November 10th in Tampa, "Last Out: Elegy of a Green Beret." The play captures the raw emotion of the battlefield and honors the men, and still fighting – and the families back home. Scott's message of finding your voice and sharing it to help your fellow human is one that applies across all facets of leadership, and one he and his wife foster through their organization, Heroes Journey.
Key Takeaways
[4:16] When Scott decided to write and develop his first play, "Last Out: Elegy of a Green Beret", he sought to capture both the experience of the veterans and their families along with using his storytelling ability that was developed as a Green Beret. The situations in the play are all based on true stories, and he brings the raw emotion and pain of combat to the stage. All proceeds from ticket purchases will go to The Heroes Journey, a 501c3 nonprofit.
[5:44] The tag line for the play is: "You've heard the stories of the first in, now you will hear the stories of the last out." He captures the redemption Scott sought to give veterans once the dust has cleared and others have moved on.
[7:49] Emotions are at the heart of leadership. We must understand it, and embrace it to fully connect with ourselves and others in order to lead by example.
[8:39] It's not the words leaders say that make us compelled to act, it's the way those words make us feel.
[11:26] As a storyteller, there are two relationships: the relationship to the story, and the relationship with the audience.
[13:39] Scott's dad had a huge influence on how he viewed storytelling and connection to emotion. He saw his dad work tirelessly to lead and become one of the top wildfire fighters in the country. He showed that a leader can be humble, admit to not knowing answers, and always striving to do better.
[18:41] With over 20,000 veterans a month leaving military service, there is a lot to be done. Veterans are at a high risk of disconnecting from their purpose and identity. Scott's focus at the Heroes Journey is helping warriors find their voice, and tell their story whether it's to an employer, their family, or just to themselves.
[22:40] Often our identity gets wrapped up in our job. It's healthy to connect with your own values and emotions and then bring those into your job as a leader, and have awareness that your job doesn't define you.
[25:04] Leaving deep impressions that serve the people who follow you is the epitome of Rooftop Leadership.
[28:37] When we check in with the man or woman to our right and our left, we feel better about ourselves, and the organization performs at a higher level. So much can be gained from getting out of our head to serve.
[31:20] The Heroes Journey Virtual Course is a 7 module course that is completely free, and its aim is to help warriors develop their story and tell it in a powerful and compelling way.
[35:59] As a leader, Scott challenges us to recall a story from your past where you went through enormous struggle, and share it with someone who could benefit from the lessons you learned.
How to contact Scott:
Quotes
"Humans are the most meaning seeking, emotional, social creatures on the planet."

"Lead by inspiring others to do something bigger than themselves."

"Emotions are at the heart of action."

"When warriors find their voice again, things change."

"Your job is just one part of your identity."

"It's in struggle and vulnerability that we become relatable."

It's not the words leaders say that make us compelled to act, it's the way those words make us feel.
Other Show Mentions:
Scott Mann
These are the books mentioned in Scott's podcast.