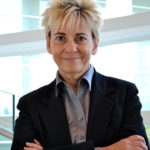 Yvonne Scott is the Chief Information Officer of Crowe Horwath, LLP. In this discussion, Yvonne shares her thoughts on how leaders can let their team members shine by providing opportunities for others to grow and succeed. She presents the 5 C's of her leadership practice and 6 styles of leadership she applies. She believes teaming is the new leadership.
Key Takeaways
[5:18] With the end in mind, what is most important to you — what you accomplished, or what you started? A good leader is like a drop of water that makes an impact, but the ripples are carried forth by the body of the company. Yvonne's legacy is the opportunities she leaves for those she leads.
[6:49] Yvonne leads with five C's — Competence, Confidence, impact on Colleagues, impact on Company, and impact on Community. The little things you do define you as a leader. Your people carry forward the opportunities you start for them.
[8:58] To rely on the ripple effect, you use the opportunity to influence others, but it's important not to micromanage how something gets done. Delegation magnifies your team beyond your own abilities. Yvonne credits her parents for modeling the necessity of delegation as they prepared her to become self-sustaining and independent.
[13:14] Yvonne had a mentor, Chuck, who promoted her, as a 24-year-old, to a manager role, against the strong warning of his own boss. If she had failed, Chuck would have been done. That was Yvonne's launching pad for her career. She learned from him that as a leader you have to be brave and place confidence in others.
[20:28] As Yvonne started her career she viewed diversity as the demographic differences between who we are. Now she expands it to include how we think and our ideals. Opportunity isn't limited. Bringing someone new to the table doesn't displace an established person from the table. Let people in who challenge the status quo, and push against the rules. Bring in people from different disciplines.
[26:44] Leaders need to let other people shine. Their job is to create people that can create value. If the leader always gets the credit, they are not empowering their team. Being a leader is not a spectator sport, but you're in the game with a lot of other people.
[30:11] Yvonne says teaming is the new leadership. She uses the Tour de France as an example. On the org chart, even those who have no reports still lead by thought and action to effect change in their areas. A team is an ecosystem.
[35:48] Yvonne discusses 6 leadership styles — Directive, Coaching, Visionary, Affiliative (trusting), Participative, and Pace-setting. Each style has its application, and good leaders will have a balanced portfolio of styles. A leader needs to know what style to use for each person and situation.
[40:11] Pacesetting is an art — knowing your team, and how much they can be stretched and pushed without breaking them. A leader needs to know the difference because the high performers will not admit when it's too much.
How to contact Yvonne:
Article: "Why a Diversity of Perspectives Matters," by S. Yvonne Scott and Chelsea Stoner
I.C.Stars: ICStars.org
Quotable Quotes
A good leader impacts an organization like a drop of water onto a pond. The leader disappears as the ripple expands.
"My legacy is really about, 'How many opportunities have I created for other people, for their success?'"
Develop competence, grow confidence, impact colleagues, impact your company, and impact your community.
Augmentation is all about amplifying your effect.
Being a leader is not a spectator sport.
Teaming is the new leadership.
A leader's job is to figure out what style of leadership will work best for each individual and situation.
You have to know when you're stretching someone and they're growing — and when they're breaking.
Bio
Yvonne Scott is the Chief Information Officer of Crowe Horwath, LLP. With over 3,600 staff located across more than 30 offices around the world, Crowe is the eighth largest accounting firm in the United States. She joined Crowe in 2008 and is responsible for directing all aspects of the firm's information systems related activities, as well as the firm's Project Management Office. She is a member of the firm's Management Team and is a key contributor the firm's transformation, growth, innovation, and women's initiatives.
Yvonne currently serves as the Vice Chair of the board of directors of i.c. stars, a non-profit organization that prepares inner-city youth for careers in information technology and a dedication to community involvement and leadership. She also serves on customer and industry event advisory boards.
Yvonne holds a Master's degree in Business Administration from Northern Illinois University and a Bachelor of Science degree in General Management and Accounting from Purdue University. In addition, Yvonne has published articles in professional journals, frequently presents on IT leadership at professional association meetings and supplier conferences, and has served as a CIO panelist at several conferences and seminars. She is a Certified Public Accountant and holds a Certificate in Data Processing.
Yvonne Scott
These are the books mentioned in Yvonne's podcast.
The Kindness Diaries on Netflix
"Leadership that Gets Results," by Daniel Goleman, Harvard Business Review