It's about a month out before we leave for Patagonia. In fact, one month from today on October 19th, we will be traveling from Buenos Aires to El Chalten at the southern tip of Argentina. On October 20th we'll be doing a gear check and our final preps before we head out the next morning. The finality of our trip is both exciting and stressful.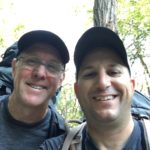 I'm still nervous about my preparation. A nagging achilles strain has hampered my cardio workouts and other issues have derailed my training a bit over the past several weeks. However, fellow crucible member Kevin Glynn has been keeping me honest with some long hikes under heavy load. Early this morning we enlisted the help of Aaron Wolf, owner of Adventures Accessed, LLC.
We hired Aaron, a professional outdoor guide, to review our gear, teach us some tricks and to cover some of the details that we sometimes don't know enough to ask. Boy are we glad we did this.
We started out with a 6am meeting at a local forest preserve in the Chicago suburbs. What was great about this was that meeting with Aaron forced us to gather just about everything we were taking on the trip and pack it into our bags. We have been amassing gear and supplies for some time, but we had not yet marshaled everything into our packs.
Aaron helped us understand how best to pack our gear and where to put certain items for quick access. His guidance on where to put weight was very helpful, but the most helpful was having him show us how to adjust our packs with all the varied straps and tightening mechanisms. Kevin and I learned quite a bit.
Perhaps the most interesting and useful tip was how to put our pack on and how to take it off. Aaron's method, learned from his time as a Marine, taught us a way that was not only easier, but far less prone to damaging a strap by putting too much pressure on a single point of our packs. Few things can wreck your trip more than a broken strap or pack.
Since Kevin and I both have new boots, part of our plan was to take a long hike under full-load with Aaron. The terrain is nothing near as difficult as what we will face in Patagonia, but it is good to get time on the trail with packs that top 50 lbs. In fact, Kevin and I each added additional weight to simulate items like snowshoes that we will eventually have to strap to our packs. I added a GORUCK 10lb. ruck plate – thank you Jason McCarthy!
Once again, I got blisters on my left foot. I'm hopeful that colder temperatures in Patagonia, boots that are more worked in and some tips from Aaron bring this problem to a halt before out trip. I am fearful of what 8+ hour days under full load will do to my paws. Each hike we take toughens our feet and prepares us for the rigors of the upcoming trip.
When it was all said and done, we traveled about 5-1/2 miles and learned a lot in the few hours we spent with Aaron. I'd highly recommend Aaron and his company – Adventures Accessed, LLC – if you have any aspirations to learn more about backpacking, camping, hiking or the outdoors.
I'm still a big fan of our Lowa Tibet GTX boots, BioGenesis supplements and Alpine Foot Specialists. I'd like to also shout out to Hans at Erewhon Mountain Outfitters for his help special ordering my boots. They are super comfortable.
So it is back to the hill with the now super heavy packs, longer hikes and adjusting the gear in our packs!