Scott Mann, storyteller, rooftop leader, military expert, and author, shares his experiences and research into the tribal origins of leadership. He tells of desert villages fighting terror, and C-suites dealing with massive trust deficits, with both groups in need of the same tools for success. He reminds us that technology does not change what we need, or how we connect. Scott sees a great deterioration of trust and social capital in Western life, and, to combat that erosion, he teaches how stories work to bridge gaps to create trust. He also expresses his concerns for transitioning warriors, and talks about his book, Mission America, helping veterans work in society using their team-building skills. Listen in and tap into your team's innate tribal need to work together effectively.
Key Takeaways
[3:07] 'Rooftop leader' comes from Scott's book Game Changers, from the Afghanistan Village Stability Program. Late in the war, Green Berets led improbable and dangerous missions, inspiring locals to stand on the rooftops and fight alongside them to defend their communities. Scott was the program manager, taking it from village to village. Scott applies rooftop leadership in coaching today.
[5:19] Scott's plan on separating from the military was to go fishing! But he started writing. He compared social capital and trust in America and in Afghanistan, and worked with social scientists, anthropologists, and dispute resolution experts. In 1972, Gallup asked Americans, "Do you trust your neighbor?" and ⅓ did not. In 2016, Gallup asked the same question, and ⅔ did not. Scott works now to restore trust.
[7:46] Corporate America, law enforcement, and other disciplines are dealing with massive trust deficits. The skills necessary to restore trust are very similar to what our Green Berets do. There's a real demand signal for it, so Scott is responding. It is done incrementally, one group at a time, and it is not easily done.
[12:00] Scott talks about the warrior-diplomat role of the Green Berets. Green Berets work by, with, and through indigenous people to help them do things they otherwise wouldn't do, that result in strategic outcomes, in places most people don't want to go. Scott teaches Green Berets, and law enforcement going into rough communities; his entrepreneurial training is very similar.
[13:26] Humans haven't changed. Electronic devices do not revise our nature. Humans are the most tribal creatures on the planet, and we respond tribally in danger. Turning the instincts of physical connection, empathy, reciprocity, deep listening, and others, into cognizant skills, will allow you to make deeper connections in most places, than people without these skills. Reciprocity brings people along.
[16:25] Scott discusses his nonprofit, Mission America, and his book of the same title, helping Special Forces and other warrior veterans transition to civilian life. Leaving the mission creates a disconnect, isolation, and a void to fill. Scott is passionate about helping warriors make that transition.
[20:30] Scott says that corporations may be able to approach the purpose and trust of Special Operations, in small steps. We can do better than we are doing now. Scott also believes men and women in service need to be coached on the transition, before they leave active duty. Scott wants to see a brotherhood and sisterhood of veterans organized to help the transition process.
[24:43] Scott says that a business can approach an honor-based tribal society. Scott sees this culture among small business entrepreneurs. Scott has friends at Amazon and Google who love the cultures there. Scott cites Capital One for a fantastic culture. He sees the problem of eroding trust as an obstacle and a division between people, not just in the workplace, but in all of American society.
[27:35] Scott talks about restoring trust. He cites Simon Sinek and Bo Eason on leadership. Scott's rooftop leader has a crystal clear vision of a better world that doesn't yet exist, and a dynamic ability to inspire others to help them build it. First, you have to restore the trust gaps. Leave tracks. Serve a bigger purpose. Begin with the end in mind (Steven Covey). Have clarity. Believe fully in what you are doing.
[30:06] Scott advises leaders to connect deeply. Work for deep human connections. Scott says to value connections, meet people where they are, and lead with stories, to build empathy.
[31:55] Scott tells of a TED Talk, where he faced a hostile audience. He spoke first about rooftop leaders, and then about his Dad's battle with cancer. No one was with him, until that story. People identify with stories that move the storyteller. That identification elicits empathy and connection. That story, when Scott tells it, always shifts an audience. To tell a story well, you must reveal your pain and vulnerability.
[38:25] Scott gives another skill tip for stories: It's not just the stories that we tell that restore trust, it's the stories that we ask to hear. If you can find a way to ask questions that let people tell you their stories, and let them tell you how things got to this place, you not only learn what the problems are, but you validate their humanity, at the most visceral level. Lean in, listen, and work it into your story. It's magical.
[45:22] Scott tells Green Berets as they start their training: "You're going to have to be three avatars: Jason Bourne, Lawrence of Arabia, and the Verizon Guy." Jason Bourne to manage lethal and coercive threats with precision, Lawrence of Arabia to manage emotion, perception, and status, and the Verizon Guy, to build a network and tribe who will listen and work around a common problem.
How to contact Scott:
Veterans — ask for a free copy of Mission America.
Email Scott at [email protected]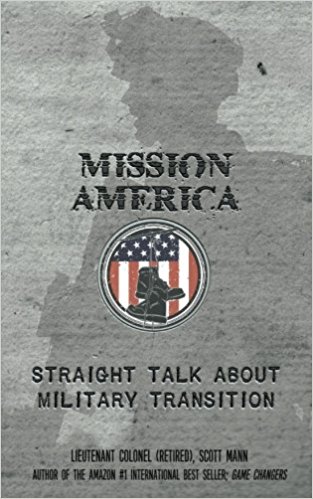 Quotable Quotes
"I equate it to a modern-day Magnificent Seven story, with our Green Berets … into some of the deepest, darkest places."
"In … writing my book, I had to compare and contrast social capital and trust … in America … to … Afghanistan."
"There is this enormous erosion of what they call bridging trust — the ability to trust beyond your in-group."
"Corporate America, entrepreneurs, law enforcement … about every discipline … is dealing with massive trust deficits."
"The skills necessary to restore trust in these places … are very similar to what our Green Berets do."
"It is very much an incremental, bottom-up approach, and it takes hard and soft skills to do it. It's no easy thing."
"There is biological wiring that includes oxytocin, serotonin, cortisol. We are social, meaning-seeking creatures."
"What works in these dusty, rough villages … are the very same things that will work in a board room."
"Those are the things that I focus on, what I call those Lawrencian skills … and they're very relevant today."
"I didn't realize how deeply my purpose was wrapped up in being a Green Beret … When I got out … it ate my lunch."
"It's pervasive everywhere you look. There's such an erosion of trust in American society today."
"Our men and women — they're very good at dying for their country, they're just not sure how to live for it." — Sebastian Junger, quoted by Scott Mann
"They see American citizens speaking of each other with contempt normally reserved for their enemies."
"It's not just the stories that we tell that restore trust, it's the stories that we ask to hear."
"We have a failure to recognize our humanity in how we interact with each other, as a point of departure."
"Add a step forward to it." — A Spartan mother to her son, when he complained his sword was too short.
Bio
Scott Mann, Lieutenant Colonel (Retired) — Green Beret — Storyteller — Rooftop Leader. Scott Mann spent 23 years in the United States Army — 18 years of that as a Green Beret in Army Special Forces, where he specialized in unconventional, high-impact missions all over the world, including Colombia, Ecuador, Peru, Panama, Iraq and Afghanistan. Scott's problem-solving abilities were honed during long deployments in places where trust was absent, conflict rampant, and he had seconds to make real connections with local communities using his head, his heart — and when threats closed in against these communities — his hands. With those skills, Scott now helps organizations gain a better understanding of their internal culture, and their external relationships, while exposing the potential for conflict that exists when trust has deteriorated.
In the same way he empowered local tribes in Iraq and Afghanistan to make transformative decisions, using very few resources, Scott teaches corporate leaders, special operators, law enforcement, and high-performance entrepreneurs and their teams to create strategic opportunities through the relationship-building techniques that drove so many of his successful Special Forces experiences.
Scott appears frequently on CNN, Bloomberg, Fox and Friends, Fox Business News, News Max, and dozens of syndicated radio shows including National Public Radio, Wall Street Journal Radio, Fox News Radio, and the Jim Bohannon Show. His op-eds have appeared in The Tampa Tribune, Washington Post, and the Small Wars Journal.
Scott Mann
These are the books mentioned in Scott's podcast.