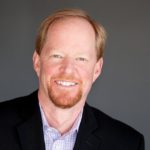 Scott Page – The power of a CEO to transform a complex organization in a complex industry
Co-hosts Jan Rutherford and Jim Vaselopulos interview Scott Page, Chief Executive Officer of Colorado Business Bank and Arizona Business Bank, on his experiences as a CEO, particularly regarding how the CEO position is distinct from all others. Scott covers the importance of preparation through education, accepting mentorship, and developing awareness and presence in the moment. Scott reveals pitfalls of inadequate leadership, and problems with letting an organization drift in unmanaged directions, as well as lessons learned through personal experience. He discusses the need for teams to hire and promote the right people a structure that provides autonomy, and the importance of performance accountability. He also discusses the power of humor in strengthening team relationships.
Listen in to learn Scott's tips for transformative leadership in today's challenged and fast-paced global economy.
Key Takeaways
[4:24] We take our business very seriously, but we don't take ourselves very seriously―I really like people, and I like to have a little bit of fun.
[7:29] I'm a huge proponent of teamwork. My senior team members partner up to solve problems and I don't even have to get involved.
[9:59] The biggest surprise when I became CEO was the speed of things coming at me.
[12:36] Put the right vertical structure and people in place.
[20:57] You have to have this mentality of constant improvement. There's no room for people who retire on the job.
[22:10] You can have a complex organization, but you have to have a very well-defined value proposition and mission. Then you have to message like crazy and support your messaging with the right activities.
[24:14] Slow down to speed up. Adapt. To remain independent as a public company, you must provide superior results.
[27:25] Mentor people–send them through programs and schools that prepare them to advance and maximize their talents in the organization.
[41:19] Accountability has to start at the very top of an organization. Then it can be driven down into the organization.
Biography:
Scott Page learned the value of humor while growing up in an immigrant family in a disadvantaged area. Scott has more than 30 years of experience in the Colorado banking community. He has served as Chief Executive Officer of Colorado Business Bank and Arizona Business Bank, since early 2014. Scott joined Colorado Business Bank as market president in 2009. He previously served as Executive Vice President and Director of Community Banking for Vectra Bank Colorado, a unit of Zions Bancorporation, for eight years, and as Senior Vice President and Manager of US Banks Large Commercial Banking at Financial Institutions Group. Scott received his Bachelor Degree and MBA from the University of New Mexico and is a graduate of the University of Colorado School of Banking. He is a member of the Executive Committee of the Metro Denver Economic Development Corporation and serves on the executive advisory board of Regis Graduate School of Business.
Quotable Quotes:
"The biggest surprise when I became CEO was the speed of things coming at me."
"Slow down to speed up. Adapt."
"It's like going from college to the pros when you go from a division head to a CEO."
"Don't make the same mistake twice. Once you figure that out, life's not that tough."
"Accountability is something you have to work on all the time."
Scott Page
These are the books mentioned during our podcast with Scott