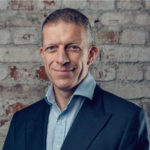 An Inspirational Profile of Leadership, Audacity and Courage
Summary & Ideas for Action
Co-hosts Jan Rutherford and Jim Vaselopulos interview Chris Paton (2 weeks before he had a brain tumor removed – see notes below which are published with Chris's permission). Chris is the founder and Managing Director of Quirk Solutions, a company that specializes in delivering Business Wargaming to many organizations. Chris was a Lieutenant Colonel in the Royal Marines and an advisor to the Cabinet and National Security Council on Afghan strategy, and he leverages the wargaming he learned as a tool to pressure test and evaluate business plans before committing resources into action.
Listen in to learn more about how you can lead stress testing in your organization to strengthen your plans and execution.
---
Emails we received from Chris – this is one tough hombre – and hope this inspires you as much as did us…

Feb 7 – Date show was recorded

Feb 24 – date of Chris's surgery – his comments below right after surgery:

Hi Jan & Jim. All done. Feeling a bit rubbish and just recovering from anaesthetic now, but thanks to your kind thoughts and prayers have come out the other side of surgery ok.

Won't know more re how cancerous/benign it is for 2-3 weeks but already feeling up for the fight.

Whatever it is; It picked on the wrong dude…..

You know me; not about to let this get in the way of what I want to do.

Really hope I smash the ball out of the park for you.

Looking forward to hearing what you come up with as a title. Will cheer up a few days in hospital!

Thank you for your thoughts and prayers. I'm out of immediate danger and now turning my energy back against my opponent!

March 9

As it happens, we had some amazing news this morning. The results of the biopsy are back and not only did they get all of the tumour out, but it seems it was totally benign and there's no risk of cancer at all.

Big smiles this side of the pond!

God bless,

---
Key
Takeaways
[3:21] In the Royal Marines, Chris co-authored an article on planning in fluid situations. That led to talks and consulting, and he realized he had something important to contribute to the corporate world. He left the military to create a business planning consultancy. At each point of a client strategy, Chris would pressure test it to find gaps and weaknesses. He would also pressure test the options he delivered.
[6:24] Chris started to have clients create more of the strategy, with more self-reliance; more responsibility for their own planning. Chris 'blew on the embers,' with pressure tests, to add the real value to the planning process.
[7:56] Military people go into business, aware that the consequences of getting something wrong are so catastrophic, that they don't want to engage with it. Because of that, they spend a lot of time preparing to get it right for the actual action. Corporations sometimes just give it a whirl, to see what happens. Military will not do that, because the cost of failure is too great.
[11:05] Chris runs sessions three ways. The first is a pure pressure test. The second is to train the people to run their own tests. The third is to train the trainer, to do it independently. The pressure test is oriented around a Blue idea team and a Red critical team. The Red are the people who will be affected by the plan. Blue runs the ideas like game plays against Red team. An umpire facilitates the wargame.
[17:38] Matthew Syed, in Black Box Thinking, suggests an evolutionary process of trying and testing, failing, trying, and testing. Chris combines that with technical expertise, to start with a good initial plan. All affected parties are needed. Executives arguing against executives will not find all problems.
[19:54] One cause of organizational blind spots is always recruiting people to be a good fit. Over time they end up recruiting very similar people, who see things the same way. Another blind spot is wilful blindness, from fear of the awful consequence of failure. Chris insists organizations draw from their own experiences in solving these challenges, for buy-in, using him as a safety net.
[24:50] Representatives of every affected group are in the room, and the facilitator urges them to use their voice to discuss all aspects of the plan. It's about giving people a platform to critique the plans positively, and be a critical friend: "I get where you're trying to go, but if we did it slightly differently, we'd probably have more success."
[26:17] A leader who is too controlling causes paralysis by fear among employees. By giving people permission to fail, leaders reduce the instances of failure. A leader can humbly say, "I don't have all the answers; you're going to have to help me. I will make the decision, but I need you to provide me with the expertise to help me make the right decision, at the right time, and in the right place."
[30:44] Chris hires people who want to contribute and make a difference. To deliver the workshops they must be ex-military, but Chris also requires three years of challenging commercial experience before he will hire them. They need to have engagement, warmth and openness. They are connected, and engaged, and Chris rewards them.
[34:55] Chris has a story from his early business days that still makes his toes curl. One of the corporate Blue team members gaver a great presentation of his segment, but when challenged, was unable to defend it, because he didn't have a good grasp of it. The Red team was recruited to generate ideas, and Chris learned that he needed to pre-qualify all the presenters for competence before pressure testing.
[39:50] Chris, 40 when he started, had no previous business experience, but had a mortgage and teenage children. He relies on his wife and family to sustain him in his entrepreneurial journey. Chris also asked clients for testimonial support, which they supplied freely. That was invigorating for him. Chris also finds strength volunteering at CHICKS, a week-long outdoor experience for disadvantaged children.
How to contact Chris:
Quotable Quotes
"The idea of the business, initially, was to help people join the dots; to act as their sort of loyal partner."
"I understood how to go from strategy to delivery, they understood their sector and their problems, and we would partner together, to take that journey."
"It was those pressure tests that were adding real value. They were kind of like these glowing little embers in the darkness."
"What I decided to do was force people to … become more responsible for their own planning, and for us to actually blow on those embers, within that pressure test."
"There are actually times at which the military can learn an awful lot from business."
"Seek first to understand." — Stephen R. Covey.
"The best version of leadership is getting people to do something that they feel they came up with themselves."
"Emotional intelligence, for me, is probably the most important competency that any leader can have."
"Leaders can let you fail and yet not let you be a failure." — General Stanley McChrystal.
"Remember — plans are worthless, but planning is everything!"
Bio
In his former career, Chris was a Lieutenant Colonel in the Royal Marines and advisor to the Cabinet and National Security Council on the Afghan strategy. He was responsible for the design of the drawdown of the UK presence in Afghanistan. He saw active service in a wide range of places including Northern Ireland, Kosovo, Georgia and Afghanistan.
In 2010, Chris co-authored a HBR article on planning in fluid situations. This then led to his leaving the military to create Quirk Solutions Ltd. Chris has worked with BUPA, Heineken, Standard Life Investments, Shell and a wide range of SME businesses. He uses his leadership, strategy and planning experience to give organisations increased coherency, direction and efficiency. Chris is also one of the UK's premier exponents of Business Wargaming; stress testing plans to identify risks and opportunities.
Bi-lingual in French and with a Masters Degree in International Liaison and Communication, Chris also provides French-speaking performance consultancy to clients. Chris Paton is an extraordinary polymath. His exceptional intellect and leadership skill set is faultless and is combined, in his new career, with an empathy to deliver, which at once inspires as much as it educates.
Chris is an avid rugby man, as well as many outdoor sports, trying to surf, and expending vast amounts of futile effort trying to make his garden look presentable.
Chris Paton
These are the books mentioned in Chris' podcast.