Developing Better Athletes, Better People: A Leader's Guide to Transforming High School and Youth Sports into a Development Zone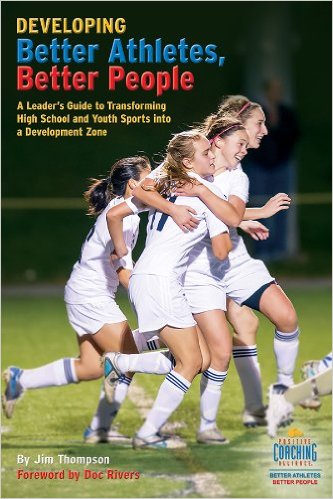 a really great book for parents, coaches and athletes!
In this groundbreaking book, Jim Thompson synthesizes two decades of work to articulate the vision of youth sports as a Development Zone to develop Better Athletes, Better People. Thompson s previous books redefined the youth sports landscape with transformational models for coaches, parents and athletes: --Double-Goal Coach® who strives to win while teaching life lessons. --Second-Goal Parent® who focuses on the life lessons their child is learning. --Triple-Impact Competitor® who makes self, teammates and the game better. As with Thompson s other writings, this visionary book is also exceedingly practical. He defines culture as the way we do things here and provides a step-by-step blueprint for creating and defending a Development Zone culture to combat the win-at-all-cost mentality of the dominant entertainment sports culture. You ll never see youth sports the same way after reading this book. Developing Better Athletes, Better People shows how sports can produce the ethical leaders and positive contributors our society so desperately needs. With 40 million youth playing high school and youth sports in the Unites States, Thompson makes a powerful case: Change youth sports, change the country.
Order Now!