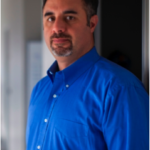 Mike Figliuolo is an honor graduate of the United States Military Academy at West Point, where he graduated in the top 5 percent of his class, and served in the U.S. Army as an armor officer. Mike also spent time in corporate America as a consultant at McKinsey & Company and as an executive at Capital One and Scotts Miracle-Gro.
Mike Figliuolo is the founder and managing director of thoughtLEADERS, LLC, he and his team train senior executives at leading companies on leadership, strategy, communications, innovation, and other critical leadership skills.
Mike used the power of story to cover a key leadership areas in an informative interview. He spoke emphatically about the measure of a leader is the ability to attract talent. He also spoke about the need to invest in the growth and development of people, and that leaders are teachers. Mike shared his stories from being a young platoon leader in the army, and how screwing up once provided one of the most valuable lessons – and examples of a leader who didn't let a crisis go to waste.

Mike concluded with sharing an event he and his team are running. It's a leadership conference called Executive Insight 16, and it will be held November 10-11, 2016 in NYC.
Contact Mike here:
Mike Figliuolo
These are books that Mike mentioned in his podcast